Dear fellow cue collectors and cue lovers,
WOW - how it all started - that´s really a long time ago, but I will try to remember that whole thing.
And i will try to make it a short story, too !!
Played some pool with friends app. 20 years ago and then started to play in a Snooker Club.
Quit after app. two years and took a break for a year - then started with Pool again.
Really fell in love with it - founded a pool club and some years later opened my own Pool Room (Billiard Hall).
If you have interest how it looks, then
http://www.billiardpro.at
, but the text is german - sorry
Then, after a trip to the US in 1998 i completely fell in love with cues. Bought my first
Blue Book
and
Billiard Encyclopedia
and decided to start my own collection.
Learned more about Billard History when visiting
"The Heinrich Weingartner Museum"
here in Vienna.
But I think the love for cues was born after I saw a

pic of a GINACUE

in the Billiard Encyclopedia.
That pic started my love for cues, these awesome pink ivory and ivory masterpiece from Ernie, that I am still searching for.
I got one that came close to it, at least a little,
but never got a chance to get

"THE ONE"

, you know - my holy grail.
Played with McDermots at the beginning, but now tried to get custom cues too.
Ten years ago that was not as easy as today, but my collection realy started out with getting
a
High End Viking
from a friend, a
Tim Scruggs Masterpiece and a Joss 1 of 1
- both over ebay
When I look back now, I really would say that these three cues started my collection app. a decade ago.
For sure, I decided not to play with my collection pieces and therefore there are some of my older playing cues
still in my collection as well. Cues like Pechauers or one of the old McDermots which is a great cue, too.
My goal for the future, at least for now :
I would love to own a typical cue or typical design from each great cuemaker out there.
Cues where anybody interested in cues,
would know immediatly who the maker is.
I will try to write you overviews on each of my cues, why and how I got them etc., etc.
I am not the greatest photographer and my camera is not the best as well, so don´t get mad on me,
because there are some pics that will not be the sharpest of all, for sure.
Therefore, I will show my whole collection in a little bit different way, too - COLLAGES.
I hope you will like it and here are the first two pics - my whole collection at the moment.
And last but not least please understand that english is not my mother tongue,
so there will be some mistakes for sure - don´t kill me for that, o.k.
Thanks for reading that long, long story and I hope you will enjoy my collection.
Erich
The forearms :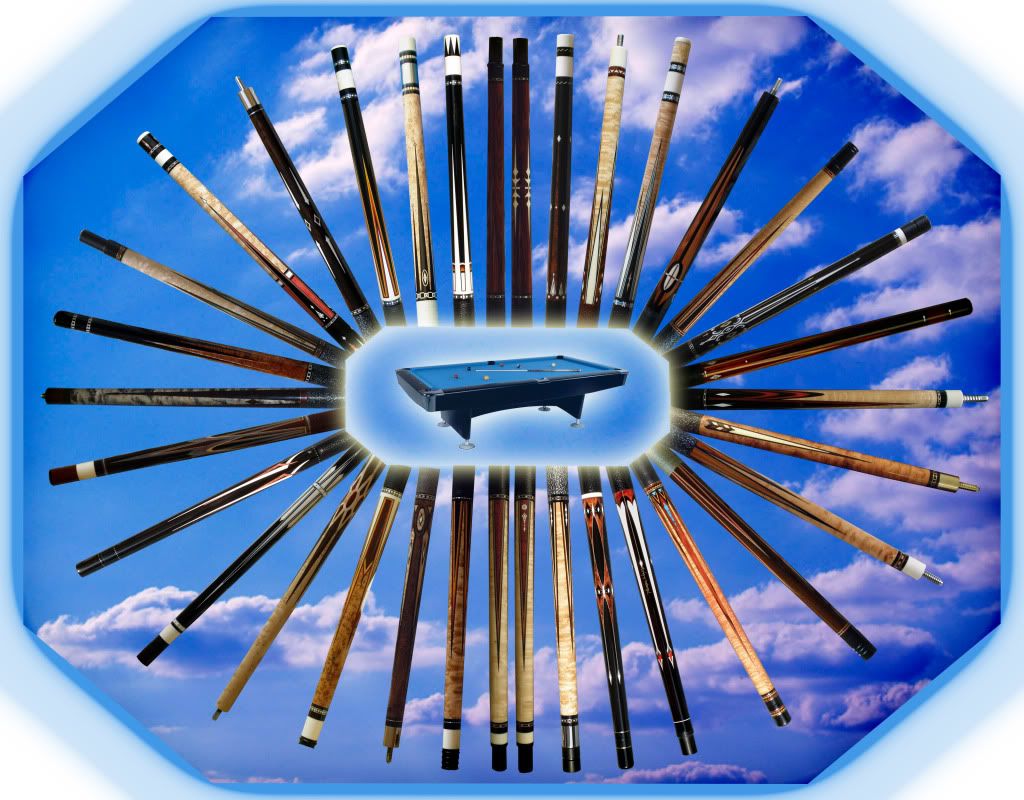 The butts :